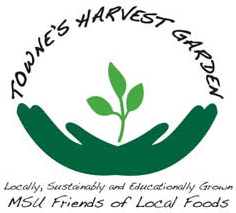 The Towne's Harvest Garden is a project of the MSU Friends of Local Foods Student Organization. Friends of Local Foods was formed in the fall of 2006 to bring a diverse group of students and faculty together to raise awareness about local foods and encourage sustainable lifestyles on campus and in the community.
Towne's Harvest Garden is a 3-acre diversified vegetable plot located at the MSU Horticulture Farm. The name of the garden connects the history of the land to the present. Towne is the surname of one of five farmers who formerly owned land which was eventually deeded to MSU. The land where the Horticulture Farm and the Towne's Harvest Garden is located has been nicknamed Towne's farm for several decades.
Welcome to the 2013 CSA season!
Update: Spring green and garden start CSA shares are currently sold out. Summer CSA shares are still currently available. Thank you so much for your support of the Towne's Harvest Garden!
Registration is now available for 2013 CSA Shares! Towne's Harvest garden will begin selling CSA (Community Supported Agriculture) shares for the 2013 growing season. Purchasing a CSA membership allows Towne's Harvest to have the financial viability to prepare for the upcoming season and help share in the risks and benefits of the harvest. The 2013 growing season will feature a Spring Greens share for $135 for 6 weeks and a Summer and Fall share for $385 for 14 weeks. A CSA share should feed 3-4 people weekly. All memberships include a weekly share of vegetables, reusable tote bag, online recipe resource, a weekly CSA newsletter, and at least two CSA member events. New this year a garden start share will be offered, to help our CSA members get their own garden ready as well! This share will cost $50 and will include a variety of starts including cucumbers, onions, peppers, chard, cabbage, basil,heirloom tomatoes, yellow squash, a pumpkin, and perennial flowers. Please visit our CSA page for more information and download a CSA subscription form.
Towne's Harvest Garden is now Certified Organic by the MT Dept. of Agriculture!